Tag: sleek sexy abs
by Admin on Jan.27, 2012, under Healthy Living, Sexy Abs Diet, The Party Girl Diet
Want Sexy, Sculpted Abs?  Author Aprilanne Hurley's Official Sexy Abs Diet™ was originally developed and written by Hurley in February of 2010, and submitted as copy-written material with San Diego State University's Nutrition Department.
As Hurley's Sexy Abs Diet™ is a specifically focused diet and exercise regimen, Hurley first wanted to concentrate on writing a foundational nutrition and lifestyle research guide with a broader focus to provide the public with the most current ways they can get healthy and fit, hence…The Party Girl Diet™ was born!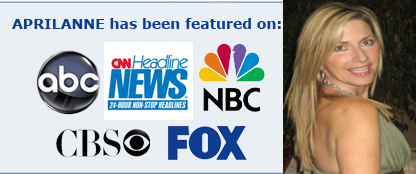 Now, with the success of The Party Girl Diet™ – Hurley's Sexy Abs Diet™ will be available this season providing a Real Diet & Exercise Program for Real People Looking for Real Results In Their Quest to Attain Sexier Abs!
Hurley's Sexy Abs Diet™ Documents The Latest Nutrition & Fitness Research That Will Unlock The Secrets to Achieving The Best Abs Possible For Your Individual Body Type.
Hurley's Sexy Abs Diet™ is written in an "easy to digest" format so you can immediately apply each of the 7 Secrets into your lifestyle to begin seeing and feeling results in as little as 2-Weeks!
Enjoy your life and the foods you eat while achieving the Sexy Abs of Your Dreams with Aprilanne Hurley's Sexy Abs Diet™!
For release dates and more info please visit  SexyAbsDiet.com – Your Home Base for Real Facts About How to Get Sexy Abs Based on The Most Reliable Research on Health, Fitness, & Wellness to Date!
Hurley's best seller The Party Girl Diet is available on Amazon NOW! Find out how to "Keep the Party Going…While You Lose the Weight" (and uncover those sexy abs jus waiting to be seen) with Certified Specialist in Fitness Nutrition Aprilanne Hurley's best selling Party Girl Diet – a well documented "Survival Guide" providing the latest research in health & fitness with a twist:
At Last, The Party Girl Diet Offer You a Sexy, Healthy, NEW Lifestyle That Let's You:
Eat Chocolate…
Drink Red Wine…
PLUS…Enjoy a Wide Variety of Delicious Foods AND LOSE WEIGHT …While You are Having the Time of Your Life!
Discover The Party Girl's SEXY NEW Way of Living That Let's You Keep the Party Going…While You Lose the Weight:
- Enjoy 2 Weeks of Tasty, Healthy, 10 Minute Meals
- GET SEXY…Lose Up to 5 pounds in 3-Days with The Party Girl Diet's HEALTHY Kickstart  Plan!
- Uncover Your Sexiest Abs:  Burn Fat & Calories with The Party Girl Diet's Cutting Edge Workout Guide ~ No Gym Required!
- Discover the Secret Formulas to NATURALLY Enhance Your Health, Beauty, and Vitality with The Party Girl Diet's Famous "Daily Mocktails!"
From the back cover:
Look no further – Hurley's Party Girl Diet is a healthy, sustainable lifestyle, and a must read for anyone looking to achieve a new level of health, beauty, and fitness.~ Vic A. Narurkar, MD. , Chief of Dermatology, California Pacific Medical Center, SF, Founder of the Bay Area Laser Institute, San Francisco, CA.

What readers are saying:
"I've read them all and this one is terrific. I was so inspired after reading this book that I changed my whole way of eating…my fridge looks like a rainbow and I have ditched the low carb mentality." Maria K.
"The Party Girl Diet not only became a self-help book for me on so many different levels, it is an information bank of healthy 'lifestyle' tips, recipes, scientific formulas for fitness, nutrition and fun!! "~ Maureen T.


Order The Party Girl Diet on Amazon and get FREE 2-Day Shipping with Your Amazon Prime Account!
sexyabsdiet.com, sexyabsworkout.com, thesexyabsdiet.com, how to get sexy abs, How to lose weight, help me lose weight, diet and weight, weight loss, nutrition, diet and fitness, best diet books 2011, best diet books 2012, natural weight loss, how to lose weight naturally, quick workouts, whole foods, party girl, party girl diet, healthy party girl, the party girl diet, sexy abs, sexy abs diet, sexy abs toolkit, sexy abs workout, sexy abs workbook, total body workout, circuit training, beach body, beach body workout, best abs workout, Aprilanne Hurley, California Living,
For personal diet and nutrition consultations please contact Aprilanne @aprilanne@dietdaynews.com
Aprilanne Hurley SFN is a Certified Specialist in Fitness Nutrition,California Living's Health Expert, and author of "The Party Girl Diet," available on Amazon.com so you can "Keep the Party Going…While You Lose the Weight!"  Hurley's new book "The Sexy Abs Diet" will be available on Amazon this season!  Visit SexyAbsDiet.com for pre-order updates and release date info.
Hurley is a registered Natural Foods Chef with First Lady Michelle Obama's Let's Move/Chef's Moves to Schools Program, and contributes health and nutrition focused articles in her role as the Examiner's  San Francisco Nutrition Examiner.
Leave a Comment
:Add new tag, Amazon sexy abs diet, Aprilanne Hurley, big city tour, how to get sexy abs, overnight makeover, Party Girl, party girl arizona, Party Girl Diet, party girl diet big city tour, party girl diet book, sexy abs, sexy abs diet, sexy abs workout, sexyabsdiet.com, sleek sexy abs, sonoran living live, The Party Girl, The Party Girl Diet, the sexy abs diet, thesexyabsdiet.com
more...